Fully Managed Voting Services
Oct 2, 2019
Services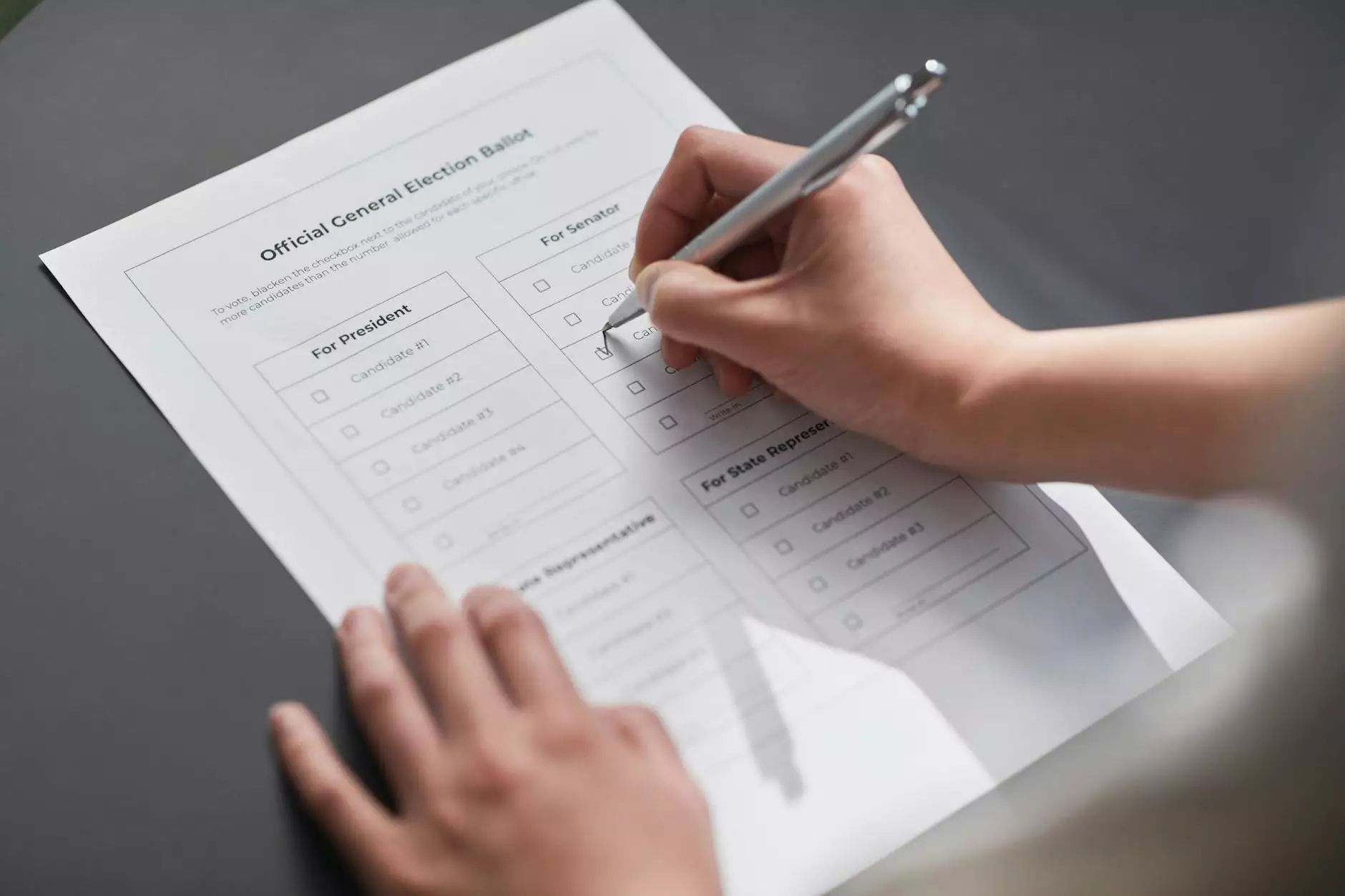 Welcome to Meaningful Connections Brand Consulting, your trusted partner in innovative business and consumer services. In this page, we are excited to introduce our Fully Managed Voting Services, designed to help businesses and organizations make informed decisions through secure and efficient voting processes. Our comprehensive consulting and analytical services enable you to implement effective voting strategies and enhance democratic decision-making.
Why Choose Meaningful Connections for Your Voting Needs?
At Meaningful Connections, we understand the importance of transparent and reliable voting systems in various domains. Whether you need voting services for corporate boards, community associations, non-profit organizations, or any other type of group decision-making, we have the expertise and resources to meet your specific requirements.
1. Expertise: Our team of seasoned professionals has extensive experience in consulting and implementing voting systems. We stay up-to-date with the latest industry trends and best practices to ensure that our clients receive cutting-edge solutions tailored to their unique needs.
2. Comprehensive Solutions: We provide end-to-end voting services, starting from system design and implementation to data management and analysis. Our team works closely with you to understand your goals and devise a customized voting strategy that aligns with your objectives.
3. Secure and Reliable: We prioritize the security and integrity of your voting process. Our advanced technological infrastructure ensures the protection of sensitive data and secure transmission of voting results. You can have confidence in the robustness of our systems.
4. User-Friendly Interface: Our user-friendly voting interface makes it easy for participants to cast their votes, enhancing engagement and participation. We provide clear instructions and user support to ensure a smooth and seamless voting experience for all users.
Our Fully Managed Voting Services Process
Our fully managed voting services follow a systematic process to provide you with a comprehensive solution:
Consultation: We start by understanding your voting requirements, goals, and preferences. Our experts collaborate with you to create a customized voting plan tailored to your specific needs.
System Design and Implementation: We design and implement a secure and efficient voting system, utilizing state-of-the-art technologies and industry best practices. Our team ensures seamless integration with your existing infrastructure.
Data Management: We handle all aspects of data management, including participant registration, ballot creation, and secure data storage. Our advanced systems ensure accuracy, reliability, and protection of voter information.
Voting Process: Participants are provided with user-friendly interfaces to cast their votes. We offer various voting methods, including online, in-person, or hybrid, to cater to diverse preferences. We ensure the confidentiality and integrity of the voting process.
Result Analysis: Once the voting concludes, our experts conduct a thorough analysis of the results. We provide detailed reports and insights to help you understand the voting outcomes and make informed decisions.
Benefits of Our Fully Managed Voting Services
By choosing our fully managed voting services, you unlock a range of benefits that significantly enhance your voting process:
Informed Decision-Making: Our comprehensive analytical services provide valuable insights into voter behavior, allowing you to make data-driven decisions.
Increased Participation: Our user-friendly interfaces and accessibility options ensure high participation rates, enabling more inclusive decision-making processes.
Time and Cost Savings: Our efficient voting systems save you time and resources, eliminating the need for manual processes and paper-based ballots.
Data Security: We prioritize the security of your data, employing advanced encryption and authentication protocols to protect confidential information.
Customization and Flexibility: Our services are highly flexible and customizable to meet your specific requirements. We can adapt to your unique voting needs and preferences.
Expert Support: Our dedicated support team is available to assist you throughout the voting process, ensuring a smooth and hassle-free experience.
Contact Us for Fully Managed Voting Services
Experience the benefits of our fully managed voting services and maximize the effectiveness of your decision-making processes. Contact Meaningful Connections Brand Consulting today and schedule a consultation with our experts. We are committed to providing exceptional consulting and analytical services to help your organization thrive.
Phone: 123-456-7890
Email: [email protected]